Skip to Content
Sprinkler Irrigation in Summit County, UT
Sprinkler Irrigation Services From Installation to Repair
Your lawn is the first thing that people see when they come to your home, so making it beautiful is important for curb appeal. During dry months, keeping your lawn properly watered is important for the health of your grass. A sprinkler system can provide low-maintenance lawn care that will keep your yard looking green and beautiful. At Summit County, UT Oberg Irrigation, we offer a variety of services for your home or commercial sprinkler system with a team of professional experts ready to offer the highest quality service. Our sprinkler services include:
Sprinkler system remodels
Sprinkler consultation
When it comes to sprinkler systems, we offer a full gamut of services to meet all of your needs. We tailor our services to your particular situation to ensure your full satisfaction.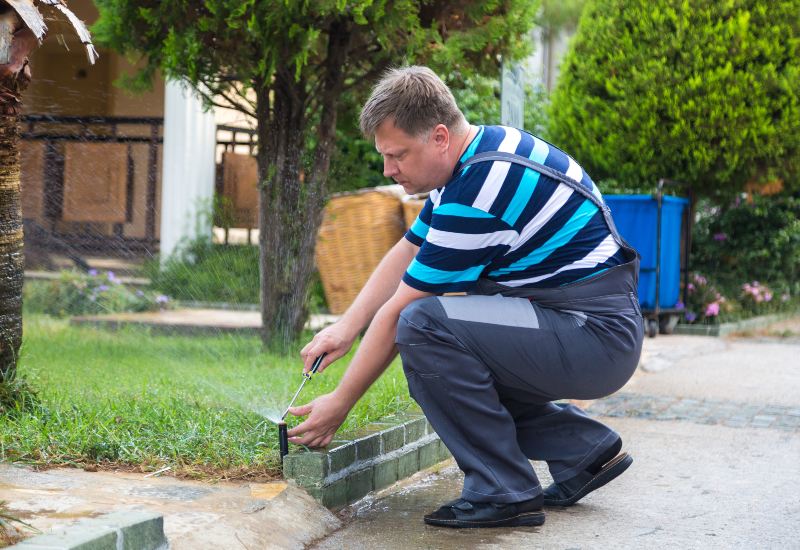 Consult Us for Sprinkler Irrigation Services
Some people like the challenge of doing their own maintenance or installation projects; however, it's never a bad idea to have an expert on standby if you get stuck or need some advice. The professionals at Oberg Irrigation are ready on standby to consult with you on your at-home project. Whether you are putting in a sprinkler system or upgrading and maintaining an existing system, our experts are just a phone call away to advise you or provide some guidance if you have questions. We provide sprinkler consultation services on a variety of topics to make sure you get the most out of your sprinkler project.
Meet Our Sprinkler Irrigation Experts
The team of experts at Oberg Irrigation have over 20 years of experience and are well-versed in sprinkler repair, maintenance, and installation. If you are looking for a team of professionals that are dedicated to providing the highest quality service from start to finish, look no further than our team in Summit County, UT. We have the on-the-job experience needed to tackle any project for your home or business's sprinkler system, helping you get the lawn results that you desire. If you are more inclined to handle your project on your own, you will find that our experts are more than willing to consult on your project to provide advice and guidance. Your satisfaction is our number one priority. We are passionate about providing quality services to tackle any problem or project. When you call our team, expect the best results.
Contact Oberg Irrigation in Summit County, UT
If you are ready to give your lawn the upgrade it deserves, look no further than Summit County, UT at Oberg Irrigation. Your sprinkler installation, winterization, or remodel is safe in the hands of our experts. We are dedicated to making your lawn look as beautiful as it can look and will work with you every step of the way to get you the results you want. Contact us during our hours of operation for a consult or to learn more about our services.
Monday: 7:00 AM – 7:00 PM
Tuesday: 7:00 AM – 7:00 PM
Wednesday: 7:00 AM – 7:00 PM
Thursday: 7:00 AM – 7:00 PM
Friday: 7:00 AM – 7:00 PM
Saturday: 7:00 AM – 7:00 P
Call us today to plan your sprinkler system project. We are excited to meet you.
Get Custom Service at a Fair Price Today!